Jill Sagarin, Secaucus, NJ
I am so glad you were able to customize our time together to just work on areas I needed the most: make-up application and how to accessorize my clothing. The greatest compliment to your service came from friends I hadn't seen for awhile. They wanted to know if I had any cosmetic surgery!
Martin O'Brien – Global Manager, Nokia, Oakland, NJ
I'm enjoying my new wardrobe tremendously and have received a handful of compliments from those I was intimidated by in the past! I appreciate your color coded wardrobe chart, it has been a great help to me in learning how to coordinate my clothing. Thanks for all your efforts.
Marie Flynn – Glenmede Trust, Morristown, NJ
Thank you for sharing your sense of style and good taste on my behalf. For probably the first time in my life, I enjoyed shopping for clothes. Would you believe the very first day I wore one of my new outfits, I received compliments! People complimented me on both the wine color of my suit and my accessories. You have brought me out of the duldrums of my usual navy and black, and into a more updated and chic personal style.
Lee Cushman, Stamford, CT
Roslyn, I haven't enjoyed time with someone so much for so long! You made it easy and I was dreading the shopping. You have opened new doors already in my life and I feel years younger just knowing how to use makeup and wear the right colors! Thank You!
Claudia M. Nelson CPS – Stanley Works, New Britain, CT
You've done so much for me it's hard to know where to begin! I can't believe how much you changed my "look" in just a few hours….from colors, my hair, personal style and body type. During the closet audit you worked tirelessly in going through my wardrobe of 30 years! Shopping was a wonderful experience! And, this week I am getting compliments from people wondering if I lost weight! A few remarked that I 'looked extremely professional'. You're the best!
Len Prazych – Prazych Communications, Saratoga Springs, NY
Being tall, shopping was never pleasurable for me. In a very short time, you were able to coordinate A professional wardrobe which was comfortable, within my budget, which has greatly enhanced my overall Professional image and confidence. Many thanks.
Debra Olita – Toshiba Consultant, Hoboken, NJ
I learned so much about make-up application, accessorizing and Business Casual attire. Being very petite, it has always been difficult to find clothing that fits my frame. I truly am thrilled with my shopping experience with you!
Margaret Pangert, Upper Saddle River, NJ
My closet was such a mess until you helped me organize! I can actually appreciate the clothing I own. Your color analysis brought a better understanding of what I should be wearing. Our shopping time made me feel like a 'Queen For A Day', and I am thrilled with the workable wardrobe you coordinated, at such good prices!
Sally Klemm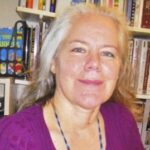 Adult Finishing School
Thank you for sharing your expertise and words of wisdom with me. I have read through the workbook you created for me, and have taken your suggestions to heart. I have already cleared my closet and bought my first piece of new clothing….a jacket! It was a pleasure meeting with you
Gracchi Villabon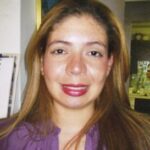 Adult Finishing School
Thanks again for sharing your experience and words of wisdom with me. You have inspired me to make important chances in my wardrobe and overall presence. I greatly appreciate our time together and know it will help me in my future career endeavors.
Elizabeth Carter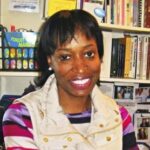 Empowerment Training
This experience has transformed my life. I am so glad, grateful and thankful for all of your support. May God bless you with health, success and abundance.
Stefanie Alaimo
Empowerment Training
I am thrilled with the way you have helped me change my self-image in just 4 sessions! You have motivated me to make changes my professional image and manner. Just understanding the right colors to well, getting a more updated hair style and learning the proper way of using makeup has given me a more polished appearance and greater confidence. I appreciated your posture and walking exercises and made me feel much taller than 5'2″ and look forward to continuing with part 2 of your empowerment training.
St. Joseph's Hospital in Paterson, NJ – Rhoda Lei Yago, Nurse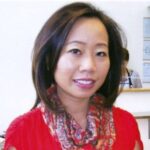 Empowerment Training
You have transformed my life! I am so happy I found you to help me achieve greater confidence in my appearance, and vocal communications, to enhance my career. Thank you very much for your motivation and advice. You are a very good mentor and classy lady! I am looking forward to continuing my training with you.
Myriam Rodriguez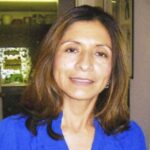 Professional Business Communications
Working with you to increase my communication skills, posture and poise, gave me so much more confidence. Learning all the social graces also gave me a greater understanding of how business is conducted in American companies. As you said, 'Knowledge is Power', and I now have the tools to interview for another job. My great appreciation!
Ola Awad, President – Palestinian Central Bureau of Statistics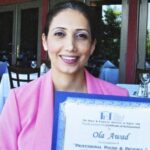 Professional Business Communications
Thank you so much for your commendable efforts and dedication to make the 9-hour training program (Professional Business Communications) a success. I really enjoyed our time together and benefited from your Expertise and advice. I will recommend your services to business Colleagues and friends.
Karina Ycaza, Age 38
I am eternally grateful for my experience with your program. I knew I had to do something like this! I have learned how to be my best, to improve my business manners as well as polish my appearance as an Executive Assistant. I have enjoyed our conversations, and your guidance about my communication skills. I now understand the value of slowing down my speech, and listening better. It has meant the world to me! I look at things differently now, and feel more confident about my Executive position. Thank you so much for your help and dedication.
Trashia Crenshaw, Age 32
I just wanted to take this opportunity to express how grateful I am to have met and train with you. It was indeed one of the most pleasant experiences of my life. You are a kind person, and your delivery is exceptional. You have put me on a path that I know will lead to greatness in my career. I can say that I am now a better person on the inside, and outside, before I started my training with you.
Thanks so much! You are great!
Alexander Carter, 43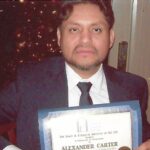 2018
I can't thank you enough for all your wonderful teaching! I came to you at the recommendation of my boss, not knowing what to expect. I became so comfortable in your office and with your communication training, that I truly enjoyed coming to your sessions. I learned so much about myself, and it was such a help to make that display board of all my facial expressions! I now have that on my desk at my office to keep as a reminder of how I look at all times! There were so many positive things I learned about business etiquette and managerial skills, I just can't thank you enough. I think I really miss our time together.
Sophia Yu, Age 52
Dear Ms. Rolan,
It is with great gratitude that I write my feedback for your class. Since accepting your etiquette and communications guidance, I have become full of confidence. I no longer worry about My language barrier. I started to speak with greater volume, and have overcome many mental hangups, and my Presentation  skills have greatly improved.
Thank you again, Ms. Rolan.
Your Student,
Sophia Yu
Age 52
Tasha David
Dear Ms. Rolan,
I appreciate the time I spent with you to learn speech phonetics, preparing for my different speech responsibilities. It was valuable to learn how to use better breathing techniques
to help me develop greater volume in my speech. Thank you for your invaluable mentoring. You are amazing at what you do!
Warmest Thanks,
Tasha
Caribbean Commissioner
Office of the Mayor City of Newark
International Relations & Diaspora Affairs
James Lee, Attorney
Thank you for your insight, your understanding, and all your wonderful advice. Before meeting you, as a recent graduate out of law school (Seton Hall University), I was overwhelmed by the pressures of being an inexperienced professional in a competitive industry. I had no idea how to communicate my worth to a hiring firm.
In our session on communication skills and presentation I learned how to respond to interview questions and how to communicate with others more effectively. What impressed me most was how much I learned about myself, my self-image, and how I express myself. The session gave me the tools and the direction that I needed to develop myself as a professional, and it gave me great confidence in different social settings.
Please accept my sincere gratitude for your kindness and understanding in being sensitive to the situation of young graduates entering the workforce, especially my own position. The discount you made available for me made my opportunity for professional development possible and paved the road for the next steps in my career. After we met I landed the first job for which I interviewed. I am now experiencing the start of a rewarding career as an attorney.
Thank you for all your help.
Alex Yarembinsky, 42
Dear Ms. Rolan,
I can't thank you enough for your course! I have gotten so much out of your teaching. More than I expected! When I told some of my friends about your program, they mocked me. But after seeing the changes in me they said, "that was money well spent!" What has made the biggest impressions on me was the importance of making a good first impression, having good posture and wearing current clothes that fit properly.
Now, everywhere I go, women always compliment me, It's amazing!
Thank you again, you really are great!! Your course is the best money I've ever spent. The Certificate you gave me is framed and on my living room wall!
With sincere gratitude and appreciation,
Alex